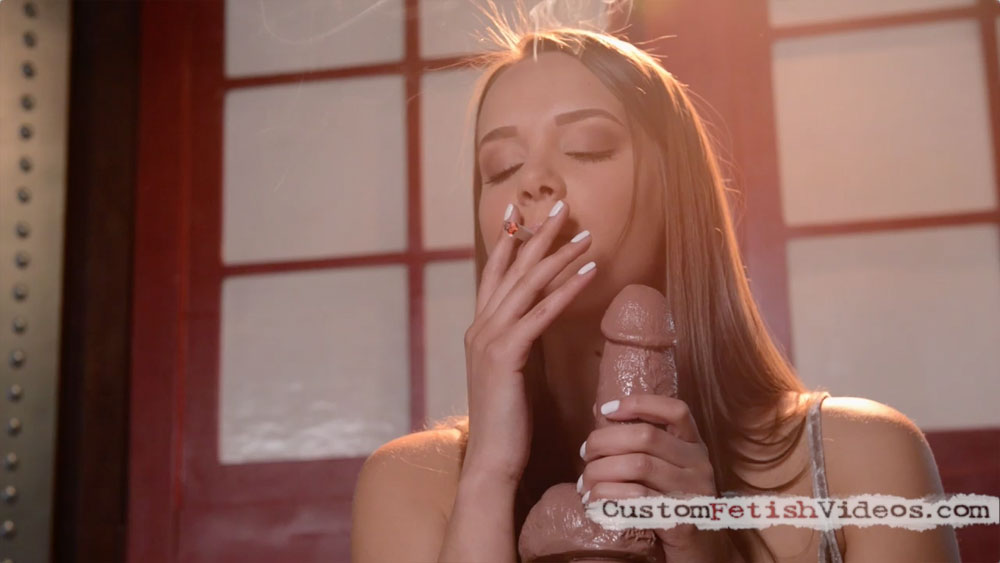 A Smoking Glamour Interview with a gorgeous Pornstar
Model: I am looking for a porn custom featuring a real smoker – someone like Kleio Valentien, Liza Rowe, Kymberly Jane…
Type of Cigarette: Marlboro Red 100s or if you prefer (an equivalent 100s cork tip cigarette such as Newport 100s or Marlboro Smooth 100s) A lighter should be used if you want to be fancy a metal zippo would be classy but not required! and an ashtray. the pack of cigarettes lighter and ashtray should remain on the desk or veranda so they remain clearly viable throughout the scene.
Wardrobe: A dress if it's not too much trouble, something that is modest and not revealing (no nudity!)
Length: I was hoping at least 10 minutes although if you could find a way to make two 10 minute scenes for a total of 20 minutes that would be even better as it would mean more smoking and more fun. The more cigarettes the merrier although please don't rush it. don't speed smoke please!
Camera Work: I want the video to be shot as close as possible. Basically you should be able to see the model and everything on the table or veranda but nothing else. Put another way the cigarette should be large enough in the screen that you can see the smoke coming off the filter. But not to the point you can't see the model. Since the model will be seated you only need to see what's above the table. Try not to zoom in and out to much if you want a few close ups for dramatic effect that would be nice but overall try to shoot it in such a way as to always have the model, her face and the cigarette in frame while keeping the picture as zoomed in as you can. Maxim detail without losing the model's face our her cigarette.
Setting: I want an indoor setting that is quiet with no music or flash photography. I would like it to be a sit down interview with a table or veranda on which the pack of cigarettes and lighter can sit. (A sit down interview affords a nice close up view that allows all the action to be captured in a relatively small space.)
Resolution: This is VERY Important. I want the video shot in Full HD. (1920 by 1080) nothing less will cut it! I have found this resolution to be by far the best in terms of detail and that's what I want a detailed close up HD smoking glamour video.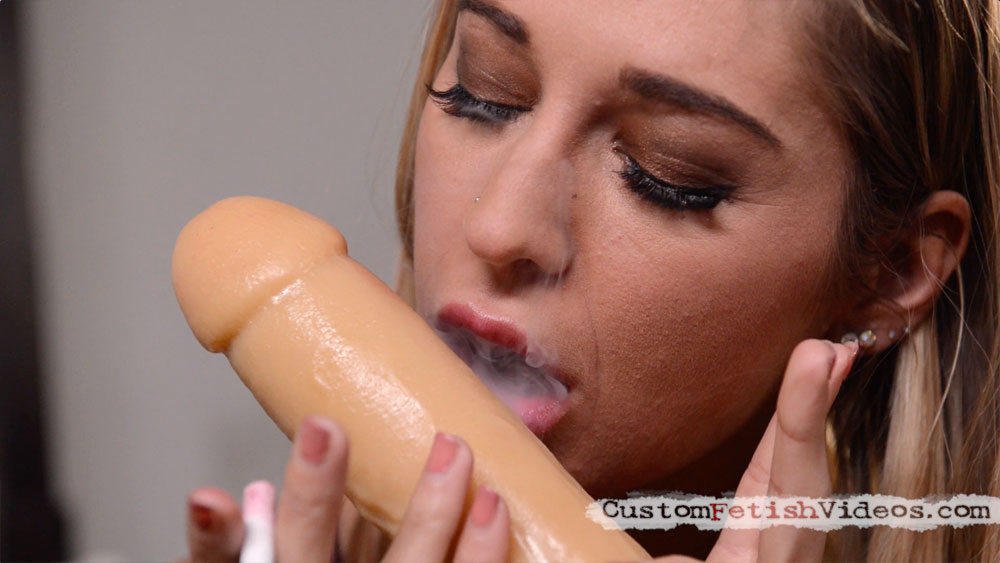 Questions: I am open to ideas but if you want specific questions I would recommend questions like these:
#1 How old where you when you first started smoking?
#2 What's the thing you like most about smoking?
#3 What is it you like most about smoking?
#4 Do you know any smoking tricks?
#5 What's your favorite brand?
#6 Why did you start smoking?
#7 Would you ever consider quieting smoking?
#8 Do you ever worry about the risks to your health?
#9 What challenges do you face as a smoker?
#10 What are good things you notice about smoking?
#11 How much time can you go without a cigarette?
#12 Are you able to smoke at your job?
If you need more questions feel free to come up with some. I think it would be cool to include a few personal questions that the model is comfortable answering such as there favorite hobbies, what kind of movies they like… I like the idea of a smoking glamour documentary that humanizes the person giving context to everything.
Could we make three individual scenes or clips each around 5 to 7 minutes each? I leave the range to you in deciding what would be dragging and what would be just right. A lot depends on how fast your model smokes her cigarette and what comes across as natural as opposed to prolonged just to fill time.
I was thinking two interview scenes and one simple smoking glamour scene where the model can either show off any smoking skills she has, read a book or magazine, or do her make up in front of a mirror. I have observed then when models smoke on camera without something to do some smoke more rapidly and show signs of stress. They also tend to be more stress when standing as opposed to sitting. But if there doing something they normally do that takes their mind off their self consciousness and they appear more natural.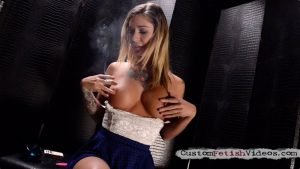 I listed a few ideas because I think the model herself should either have a choice or you should chose which would work better. If for example the model doesn't know any smoke tricks isn't really into smoking as a performance then this simply will not work. If it's Mia Li she doesn't do smoke fetish videos and you can't even tell if she's even a smoker. So that may not be appropriate. Maybe having a cup of coffee or tea with a cigarette, something as simple as that might be enough to keep the model from suffering from the spotlight effect. Plus It wouldn't take away from the production.
I wanted to give you some choices to see what would appear more natural for that model and your production. For the non interview scene I personally think having something to drink like coffee or tea would actually work nice as it would naturally create a more gradual pace of smoking and possibly produce less signs of self consciousness. But again I will leave it to you to decide what would achieve the goal better.
My only point is to give the model something to do that doesn't distract totally from the smoking but simply gives her something to focus on which in turn creates less stress and more balance. Smoking glamour clips where a model smokes rapidly because she's stressed out because she's consciousnesses aren't the best clips and I think this can be conquered with those techniques.
For the Interview I was thinking of having one clip shot at a range where you can see the model above where chest and up just above her head so her face and her cigarette takes up much of the frame, I think you would call that a near close shot, not a close up where you just see the face but after starting out from a distance as the model takes a cigarette out from her pack, zoom in so you can clearly see her light it and keep it relatively close at about chest to just above her head.
As an experiment I would like to have the second interview scene be a closer scene, so slightly above the height of her breasts to the top of her hair. Smoking Sweeties does this with a lot of their clips where they shot with the model almost tilted back so you can see her face and her cigarette very clearly and it takes up a lot of the frame but it's they still manage to keep more than just her face visible. It's a delicate balance. But what you end up with is a shot where you see much of the model but it's compact enough that her face and the upper part of her chest are clearly visible and her cigarette and the smoking scene are very large just short of a Full Close Up Shot.
For the third non-interview scene I was thinking you might have her smoke and drink something, but other ideas for complimentary normal activities are welcome I like to encourage innovation. I was hoping a hybrid of the two, have some zooming in for a time but not too close have a little more then just the face present and back to seeing everything above the waist.
I hope I didn't overly complicate this for you, let me know if this is reasonable. Some of it like the length should be played by ear and see how long it takes her to smoke a cigarette without rushing, what appears normal and comfortable. I think we have 20 minutes total to play with. the total can be less I just want three scenes and however long it comes out to is fine.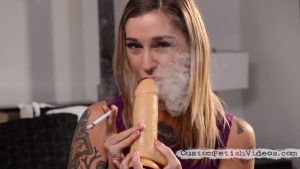 I like the idea of more then one outfit. No need to go crazy, but just something modest and classy if you know what I mean.
Just make sure Mia Li is a current smoker. Having a smoker who has quit, smoke again just for a scene makes me the cause of her relapse, smoking is addictive after all and I do care about that. I don't want to encourage or financially incentivize any model to do something like pick up smoking again if they successfully managed to quit. I would feel horrible. It's different if there a current smoker then there just doing something they were going to do anyway just with more style and glamour which doesn't change anything fundamental.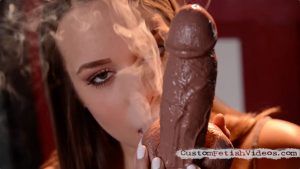 I have been giving a lot of thought to the length and am concerned it may be too long. The average time it takes a smoker to smoke a cigarette is between 5 and 6 minutes.
Unless the model is a chain smoker it would be more practical to simply do 2 5 or 6 minute segments then two 10 minute segments. I didn't give much thought to practicality but simply selected a random number.
I would recommend eyeballing the length yourself. I think it would be foolish to commit to a set time prior to shooting. See what works best film a smoking interview section and when the model is clearly done with her cigarette wrap it up. Forcing a scene to conform to a set time doesn't always produce good results so I would say keep the length of the clip flexible and try not to stretch it to fit 20 minutes. in actuality it probably needs to be much less then that. I think there's a reason that most smoking fetish clips are five to 6 minutes per scene. So I don't mean to leave the length up in the air but I'm afraid to committing to set amount of time given what I just mentioned earlier. Whatever it costs is no concern I personally would have paid double or triple for a really good clip. If you have to fit a certain set amount then I would suggest breaking it up into separate scenes. If you run out of questions or the interview is dragging on then just create a simple smoking scene with whatever time you have left. I hope that was useful. Let me know what you think.
I would also recommend if you can do this to have a person conduct the interview as you tend to get much more natural dialog when the subject is responding to a person if front of them. It also takes some pressure off the model as they can simple respond to normal dialogue instead of having to read from a script. I such a situation it would be nice to allow the interviewer to phrase the questions however they want and simply allow the natural responses to go where ever. If you find the answers take longer then expected or you go a little off script and don't have time for all the questions, don't worry about it, it's better to have a normal conversation than to worry about covering every point! So I recommend empowering the interviewer to have a little leeway much like a moderator. Those questions were just a general guide towards understanding the model as a person her and a way of creating a natural insightful window into the life of a particular model who smokes.