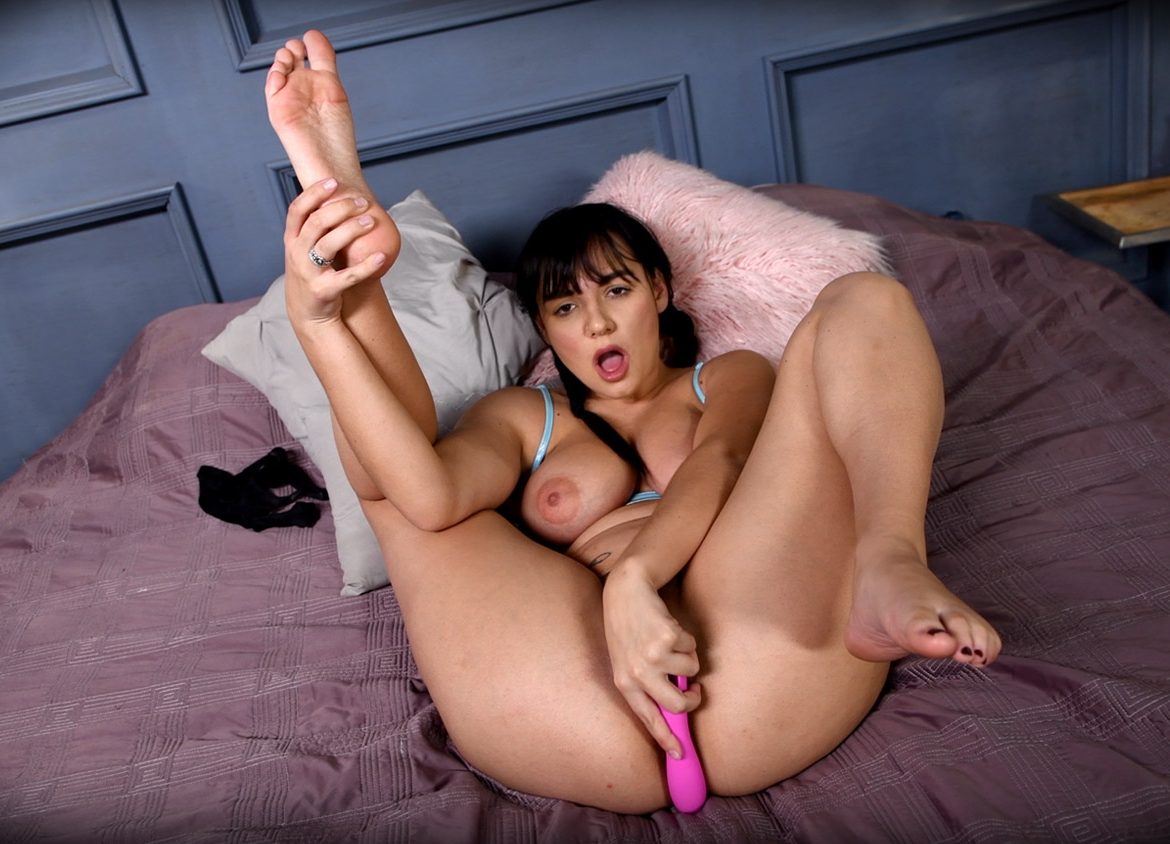 Charlotte Cross reintroduces herself to me with eye contact. She says her name and asks if I remember her. Mentions how much she misses me. Misses my cock and my strong hands, but especially my feet. (camera zooms out to show her whole front, feet included) She has a surprise for me. She wants to masturbate herself using only her feet. She begins to tease me a little bit pulling her shirt down slightly to expose cleavage as well as pulling up the straps quickly one side at a time and multiple times to shake tits. All this at the same time as the dirty talk and flirting and talking about how much she wants to fuck her feet.
Then pulling down the shirt slightly again she remembers how much I loved her tits. Then teasingly and flirtatiously mentioning that we'll get to those later. She then turns to the side and staying in that position she removes her shirt. After it's off she continues turning and leaves her back facing the camera. Looking over her shoulder she continues with the slutty talk. She mentions how she enjoys my strong hands grabbing her hips and pulling her towards me. She then starts to reach for the half bottle of oil but pauses to look at me once again and encourages me to start jerking my cock. She shows off her feet and rubs her pussy with her heel.
With a guilty grin she grabs the bottle and says how she wants to make it easier for me to slide in. She pours the remaining half of bottle down her back side starting at the small of her back and going back and forth to ensure her whole ass is covered. She then drops to her hands and knees and asks me what do I think of that ass. She twerks for about 30 seconds while reminding me how firm her ass is.
She then raises up and looking over her shoulder she spanks herself hard. And mentions that she can't wait for me to come back and give this dirty bitch a spanking. Now she says where were we and turns back to the face camera. At this time she pours about a quarter of the new bottle down the front of her and jiggles tits back and forth with no hands. She mentions how much she loved riding my cock, then says something like I want to ride your cock right now. And I want you to jerk that hard cock just thinking about it.
She begins to bounce up and down as if she's riding me. Moaning and breathing hard as if it's really happening she rides me for a full 3 minutes moving up and down at about half her natural pace. Afterwards she pauses again and reaches for the oil again as she mentions how wet her pussy is getting just thinking about my cock. And then she pours about another quarter of the bottle on herself from the collar bone down and back and forth. She shivers a little bit while she giggles and then mentions "I'm fucking serious about that cock Doug. Hurry back" Starting to bounce again only much faster and shorter strokes, she moans and feels herself up briefly while bouncing.
Continuing to bounce she encourages me to keep jerking off using the hand motion as well as verbal. She then runs her hands up and down her body one last time before the bouncing stops. Once stopped she pours the remaining oil on herself letting it drip off of her. This is followed by hands free boob jiggling, some flirtatious smiles and giggles. And almost nonstop verbal and physical jerk off encouragement. This last about 3 to 4 minutes and then the camera zooms in closer to her face and she begs for my cum. She wants to be my cum slut.
She mentions something about sucking my cock. Maybe she wants to when she sees me again. While she talks about it she uses the blowjob simulation hand movements by her mouth and pushes her tongue against the inside of her cheek about 3 or 4 times. Then she licks her lips in a seductive manner. After the facial she uses her hand to smear it slightly and smiles at me and says to please hurry back. Then blows me a kiss.